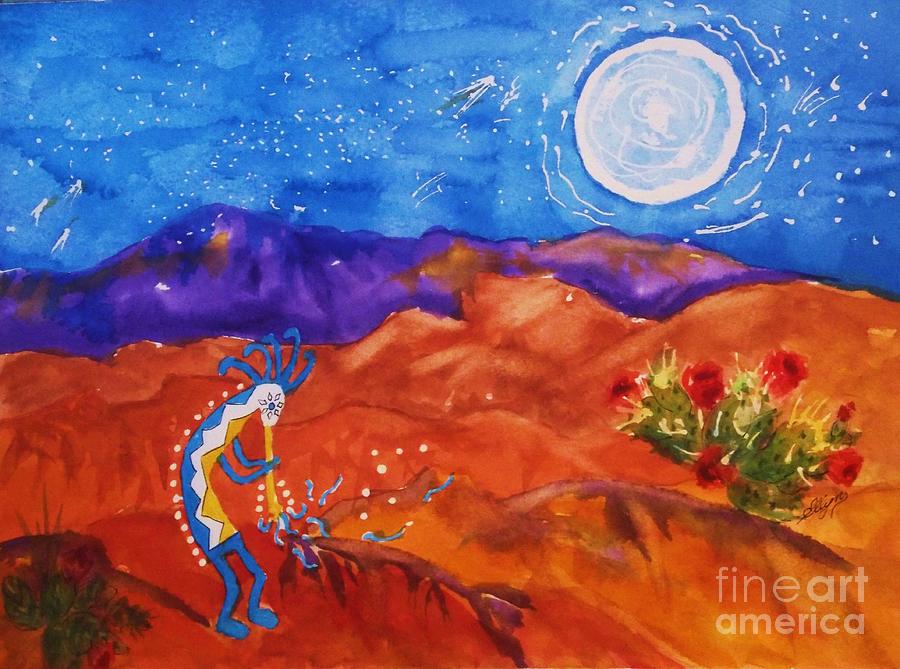 Buy the Original Painting
Dimensions
14.500 x 10.500 inches
This original painting is currently for sale. At the present time, originals are not offered for sale through the Ellen Levinson - Website secure checkout system. Please contact the artist directly to inquire about purchasing this original.
Click here to contact the artist.
Title
Kokopelli Playing To The Moon
Medium
Painting - Watercolor And Pen And Ink
Description
Kokopelli Playing to The Moon is my depiction of this legendary humpbacked flute player( his hump is sometimes depicted as a sack),healer,prankster and storyteller and symbol of fertility playing his enchanting music to Grandmother Moon. According to one legend, when Kokopelli's (Kokopele,Kokopilau) music is heard the villagers would come out and dance and sing throughout the night and come the morning all the maidens would be with child. He is said to travel from one village to another bringing the change of seasons from winter to spring.In doing so he caused the snow to melt and the rains to come and nourish the land thus ensuring a successful harvest.
Kokopelli (Koko =wooden+pilau=hump from the Hopi) translates to wooden hump, or the humpbacked flute player.He is also referred to as the "Casanova of the Cliff Dwellers" and by the Navajo as the "God of Harvest and Plenty".The images we are used to seeing of Kokopelli are copied from Hopi art which was derived from the ancient glyphs of the Anasazi (dating back over 3000 years) found carved and painted on walls and boulders all over the Southwestern United States.
The magical music from Kokopelli's flute is believed to bring good dreams into reality, and also to promote creativity.
"Many different legends exist about what Kokopelli actually carried in his sack. In Pueblo myths, he carried seeds, babies, and blankets to offer the maidens he seduced. According to the Navajo, his hump was made of clouds filled with seeds and rainbows. In the Hopi village of Oraibi, they believe he carried deer skin shirts and moccasins which he used to barter for brides or babies which he left with the young women. Others believe that Kokopelli's sack contained the seeds of all the plants and flowers of the world, which he scattered every Spring"
http://www.indigenouspeople.net/kokopelli.htm

This striking southwest fine art print is suitable for any home or office decor and is also available in a square format and throw pillows. View my complete galleries at http://ellyn-levinson.artistwebsites.com.Thank you for looking.
***Watermark will not appear on printed products****

Featured in the following FAA groups:
6/04/2014 - The Road To Self Promotion
6/11/2014 - All Red Rock Country
6/17/2014 - The Great Southwest

(c) 2014 Ellen Lynn Levinson (Ellyn)
All images are protected by U.S. and International copyright laws.
All rights reserved by the artist Ellen Lynn Levinson (Ellyn).
Images may not be reproduced or used in any way without written permission from the artist.
Statistics
Viewed 3,807 Times - Last Visitor from Beverly Hills, CA on 12/08/2022 at 1:01 PM